Gethsemane Lutheran Church
4760 Arden Way, Carmichael, CA 95608
(916) 483-5047 - gethsemane@glccca.org
Lutheran Church of Our Redeemer
4641 Marconi Ave, Sacramento, CA 95821
(916) 483-5691 - office@lcorsac.org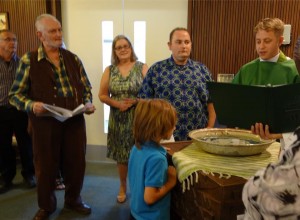 We gather as a community of faith around word, water, wine, and bread to celebrate risen new life Sunday mornings at 9 am. at Lutheran Church of Our Redeemer and Gethsemane Lutheran Church at 11:00 a.m. Where ever you find yourself in your life, or walk of faith, we invite you to join us.
Statement of Sanctuary
As a community of the people of God, we are called to minister to all
people in our world, knowing that the world is often an unloving place.
Christ calls us to reconciliation and wholeness. We are challenged by
the Gospel to be agents of healing within our society.

We affirm with the apostle Paul that in Christ "there is neither Jew nor Greek, there is neither slave nor free, there is neither male nor female" (Galatians 3:28). Christ has made us one. We acknowledge that God's reconciliation in Christ extends to all humanity regardless of sexual orientation, gender identity, race, mental ability, gender, age, physical ability, or economic class. We hope and strive to share this love with all we meet as God has first shared such love with us.
I invite you, therefore, to the discipline of Lent--self-examination and repentance, prayer and fasting, sacrificial giving and works of love--strengthened by the gifts of word and sacrament. Let us continue our journey through these forty days to the great Three Days of Jesus' death and resurrection.

Pastor Vern Holmes will lead a five week class on Atonement through the Wednesdays of Lent (February 21- March 21) beginning with a brief worship at 10am, class at 10:30pm, followed by a simple meal.
Wednesday in Lent- Evening Soup and Prayer
The evenings in Lent will offer a soup meal from 6-7pm at LCOR followed by a brief evening prayer.
---